King Street Station Recognized for Excellence in Architecture and Design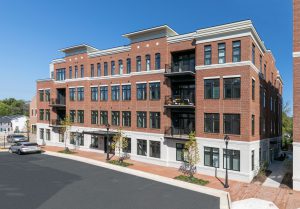 November 16, 2021 — Leesburg, VA. Despite selling out earlier this year, King Street Station continues to make a lasting impression on both the local and national stages.
The Best in American Living Awards (BALA) recently revealed that this sought-after Loudoun County community has won two 2021 awards. King Street Station has been recognized in the Built For Sale Multifamily category, outshining other four- to seven-story developments, and in the Infill Community category.
This news comes ahead of the official ceremony, which will be held early next year as part of the International Builders Show (IBS). These are especially significant honors due to the high level of competition across the country. The interior space, exterior architecture and community design were criteria considered in the judging process.
Additional accolades were also earned last month when the Northern Virginia Building Industry Association (NVBIA) hosted their annual Great American Living Awards (GALA), a prestigious event honoring the year's best achievements in the new home industry. 
The panel of GALA judges confirmed what King Street Station homeowners already knew to be true when they gave the community an Award of Merit in the Best Multifamily Design and Architecture in the New Construction category. 
These wins continue to cement the Knutson Companies' reputation for architectural excellence, as it was the sixth year in a row that one of the builder's communities was featured as a top entry in its respective category at the GALA event.
A boutique community in Historic Leesburg, King Street Station is comprised of single-level residences with elevator access. With four distinct buildings, each one contains just 16 residences, nearly all of which are spacious corner units.
Both the exterior and interior of the design work in unison to create residences that are truly remarkable. On the outside, the buildings fit the aesthetic of historic downtown Leesburg while also incorporating modern detailing. The interiors boasted soaring 10' ceilings, light-filled spaces and refined finishes.
King Street Station is a perfect example of the communities that the Knutson Companies is best known for — neighborhoods that enhance your lifestyle with access to recreation, restaurants, retail and transit.