HomeAid National Capital Region and Mobile Hope Give Back to Community with New Retail Space by the Knutson Companies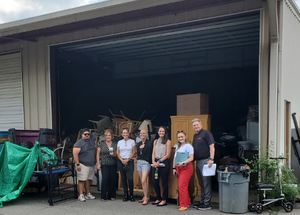 January 6, 2023 — Leesburg, VA. HomeAid National Capital Region pairs nonprofits serving those experiencing or at-risk of homelessness with regional builders and housing industry professionals on community construction projects. Together, HomeAid and local builders team up to build or renovate housing and programmatic facilities to offer safe, durable spaces.
Their latest construction project brings Mobile Hope of Leesburg, VA and the Knutson Companies together to turn a three-bay garage building into a usable retail space for Mobile Hope's second thrift store and donation center, Graffiti and Silk Leesburg.
This newly renovated space will provide free clothing to homeless and at-risk youth and provide a setting to train them in customer service, merchandising, clothes sorting, sales reconciliation and retail management. It will also serve as a sorting center where volunteers can prepare donations for distribution and sale.
Donna Fortier, CEO and Founder of Mobile Hope, shares that it is "an honor to have been selected to be a project that HomeAid supports." For over 10 years, Mobile Hope has provided resources and emergency shelter to youth up to age 24 who are at-risk, precariously housed or homeless and empowers them to become self-sufficient.
Renovations of the new 2,000-square-foot Graffiti and Silk Leesburg retail space include adding walls, HVAC, plumbing, electric, partitioned-off dressing rooms, breakroom space and a bathroom, and will be managed and completed by the Knutson Companies. The retail value of the space is $250,000 with subcontractors generously contributing to the labor and material costs. 
The Knutson Companies has partnered with HomeAid National Capital Region on construction projects for many years, and is grateful for the opportunity to continue serving the community through this new Mobile Hope project. 
"Don Knutson and Steve Alloy led the charge in 2001 to establish HomeAid as a 501C3; with the help of others from the local homebuilding industry, they set up a legacy of giving back to the community by addressing construction barriers nonprofits face," shares Kristyn Burr, Executive Director and CEO of HomeAid National Capital Region. "Two decades later, Don and his team are still leading projects. Mobile Hope is one of over 160 projects HomeAid has completed to help those experiencing or at-risk of experiencing homelessness. We couldn't be prouder to partner with the Knutson Companies to create a beautiful thrift store that will help fund Mobile Hope's crisis programs for at-risk youth in Leesburg, Virginia." 
Donna Fortier adds "Mobile Hope has been so lucky by having Don Knutson as the Builder Captain for this project. Ollin and the entire team have been so wonderful to work with and to get to know. Their passion for their work, as well as their dedication to our mission is humbling. The impact this new on-campus store will have, not only on our organization, but on the kids is going to be life-changing." 
Learn more about the work and missions of these organizations at HomeAidNCR.org and Mobile-Hope.org.