District Towns at St. Elizabeths East is Underway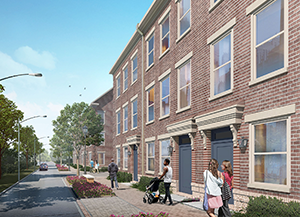 April 13, 2021 — Washington, D.C. A new collection of garage townhomes by the Knutson Companies is coming to the vibrant neighborhood of St. Elizabeths East.

District Towns at St. Elizabeths East will offer classically-styled brick exterior townhomes with clean, modern floorplans. Each of the two new designs can be personalized with up to four bedrooms and 1,860 sq. ft., plus an optional rooftop terrace for private outdoor living. The designs were specifically created to fit the established community while delivering the inspired design and premium touches that Knuston is best known for.
Following a successful groundbreaking event last month, sales are expected to open later this spring with homes from the high $400s and the upper $500s. District Towns is being launched in close collaboration with the D.C. Mayor's office and is the most recent effort in ongoing redevelopment at St. Elizabeths East.

These townhomes represent a new opportunity for local residents of Ward 8 to build wealth through homeownership. 27 of the townhomes will be affordable residences and a Homebuyers Club will be available to provide resources to homebuyers.

Just steps away from the garage townhomes is the Congress Heights Metro, so homeowners can stay connected to the entire D.C. region. Other transportation options include buses and bikes — plus nearby train stations and airports for longer travel. Driving is also convenient with easy access to I-295.

District Towns at St. Elizabeths East is within walking distance of the Entertainment and Sports Arena, home of the Washington Mystics. Other walkable local destinations within the community include the Gateway Park and Pavilion, R.I.S.E. Community Center and open green spaces.

More development is coming to St. Elizabeths East, including over 250,000 square feet of planned office and retail space, making this one of D.C.'s most highly-anticipated neighborhoods.