Celebrating the Opening of the New Mobile Hope Retail and Donation Space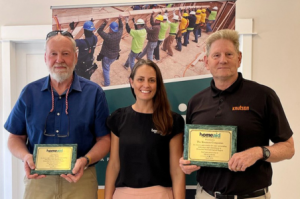 July 10, 2023 — Leesburg, VA. The Knutson Companies recently came together with HomeAid National Capital Region and Mobile Hope to celebrate the completion of Mobile Hope's second thrift store and donation center, Graffiti and Silk Leesburg. As shared by the HomeAid National Capital Region team, "we love celebrating the completion of a project, and on June 2, we hosted an Open House at Mobile Hope to reveal our latest completed project. The converted machine shed is now a beautiful new retail store and donation center, Threads of Hope, which will provide workforce development skills to at-risk youth up to age 24, as well as help fund crisis programs.
Led by Builder Captain the Knutson Companies and a team of 21 trade partners, renovations of the space included adding walls to help partition off dressing rooms, bathrooms, and a breakout space, as well as outfitting the entire space with utilities such as HVAC, plumbing, electrical, water, and sewer.
Thank you to all involved in this project – we're proud to be a part of a program that provides such important services and a beautiful new setting to train youth in customer service, merchandising, clothes sorting, sales reconciliation, and retail management."
The Knutson Companies is grateful for the opportunity to have managed the development of this new space for the community alongside HomeAid National Capital Region and Mobile Hope, and looks forward to future projects. Learn more about the work and missions of these organizations at HomeAidNCR.org and Mobile-Hope.org.